Property for Sale: Cleveland, Inverness County
Acreage:

110 ac

Price:

$55,000 plus HST

Listing Title:

Cleveland, Inverness County

Listing ID:

84

Location:

Cleveland, Inverness County

Coordinates:

Latitude:
45.686666° North
Longitude:
-61.240833° West

Category:

Farm Land & Rural

Services:

telephone, internet, three-phase power, year-round maintained and paved road
Quick Summary
This 110-acre parcel of land, located in Cleveland, Inverness County, features road frontage on Riverside Road and Morrison Brook runs through the property.
Property Locator Map
Cleveland, Inverness County: Land Details
This 110-acre parcel of land is an old farm property with hillside views and a mix of trees. Morrison Brook runs through the property, which also features a 30 foot easement to access River Inhabitants, which is located on the other side of the road. The property has road frontage on the paved Riverside Road and includes an established access road into the lot.

This property is located near the River Inhabitants Nature Reserve, which is home to wood turtles, a vulnerable species in the province, and to rare plants. Nature reserves are areas of land protected under the Special Places Protection Act for their unique, rare, or outstanding natural features, such as old-growth forests or habitats of rare or endangered plants or animals.


Directions to Property
From the intersection of Reeves Street and Highway 104 in Port Hawkesbury, head northeast on Highway 104 for approximately 11.8 km and then turn left onto Riverside Road (follow signs for West Bay/Kingsville/Riverside Road). Once you have made the turn stay to the left at the fork in the road to remain on Riverside Road. In approximately 2.3 km the property will be on your right.
Area Data: Cleveland, Inverness County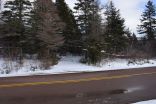 This property has the best of both worlds - it is a remote parcel of land with plenty of privacy but it is also close to many amenities and essential services.

The property is just 12 km away from the Strait Richmond Hospital, which includes an emergency room that operates 24 hours per day/7 days per week. The Town of Port Hawkesbury is just 14 km away with lots of restaurants, shopping, accommodations, entertainment, and services. The renowned Dundee Golf course is also a short drive away (approximately 17 km).